Sunset Tourist Park Mount Isa

Your Stay with us is a true
AUSSIE EXPERIENCE
Enjoy a relaxing holiday or a short overnight stay at Mount Isa's most beautiful park
Sunset Tourist Park Mount Isa is where east meets west across norther Australia and is the gateway to the Outback.
Sunset Tourist Park Mount Isa is a family run caravan park that is family friendly, pet friendly and budget friendly. That's why many who visit Sunset Tourist Park Mount Isa love to come back again and stay again.
You only have to read our visitors comments to see for yourself, "Genuine care, feels more like a home than a caravan park." "Nice people, nice park. I will come again."
Sunset Tourist Park is located on the quiet outskirts of the bustling town of Mount Isa. Stay out of the hot Australian sun, by setting up your caravan or pitching your tent under the shade of the many mature African Mahogany trees that park has to offer.
Sunset Tourist Park also offers a range of facilities. The camp kitchen is the place where all the action is with well-maintained amenities and BBQ's which are nearby, gas-fuelled, free and ready for you to cook up some Mount Isa Outback tucker.  The salt water pool will provide park guests with hours of entertainment, while the caravan parks playground will keep the kids occupied until the sun sets off into the distance.
We also have a variety of accommodation, catering to all budgets. The park offers self-contained, 2 bedroom Villas, Cabins, Units, Backpackers and Pet friendly accommodation.
The park also offers drive-thru, powered and unpowered sites, catering to all different sized caravans, tents and motor homes, allowing you to comfortably return back to your camp site and relax after a day out exploring what the bustling town of Mount Isa has to offer."
So what are you waiting for ?
Make Sunset Tourist Park Mount Isa, your next Outback Adventure!
Sunset Mt Isa Work Force Park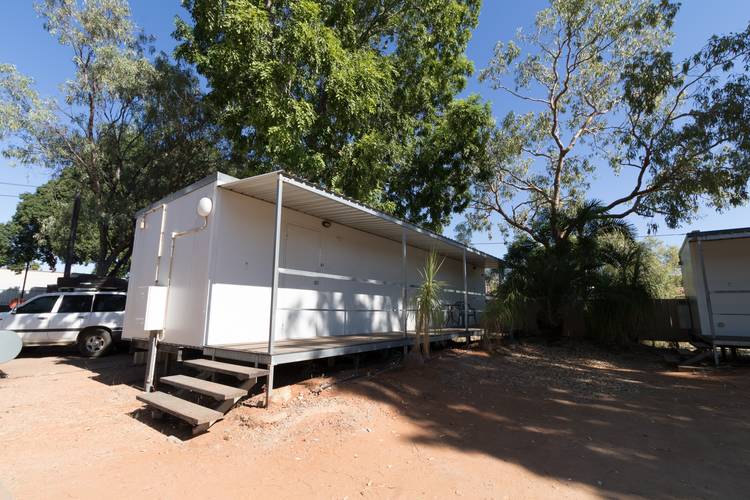 The beauty of staying at a Sunset Tourist park is that we can offer FIFO workers or drive in drive out workers affordable accommodation.
We have fully self contained studio rooms and can offer a breakfast pack along with a cut lunch to the workers or just accommodation only.
We have a fully equipped camp kitchen with BBQ facilities, on site laundry and swimming pool for the workers to enjoy.
For pricing please give us a call or send an email.
Online Bookings
To check availability or to make an Online Booking
Mount Isa Mines Rotary Rodeo
12 to 15 August 2021
The Mount Isa Mines Rotary Rodeo is where the romance of the Australian Outback meets the grit of a mining town, east meets west and man meets beast. Non-stop rodeo action - bull riding, saddle bronc, bareback bronc, rope & tie, steer wresting, team roping, barrel racing, breakaway roping. Experience unearthed and behind the scenes tours. The legend continues. Since 1959